Hey lovelies hope you're all doing well. I wanted to start a little series of posts on my blog to share some of the blogs and blog posts which I read and have particularly enjoyed each week. I read some amazing blogs on a daily basis and am constantly inspired and encouraged by other bloggers' work. I hope some of you can feel also inspired by these blogs, so here's a few blog posts I've loved reading this week:
30 days of nails challenge
I absolutely love reading Fee's blog and looking at her beautiful photographs. Her blog has a clean and clear layout and is so easy to navigate around. Click on the link above to go to one of the posts from her 30 day nail challenge. She has chosen to post a different NOTD post everyday for this month - a great way to discover those long forgotten and unloved polishes!
Lil Miss Rosh by Roshni
Lil miss glossy: Morroccan oil treatment review
Roshni's blog is one of the blogs I read everyday without fail. Her blog is genuine and down-to-earth and I think every girl can relate to what she blogs about, whether it's frizzy hair troubles or body image insecurities. Roshni's blog is personal and so inspiring. The above link goes to her latest hair related post and her review on the Morroccan oil treatment. If you want a thorough, honest viewpoint on any product - read this blog!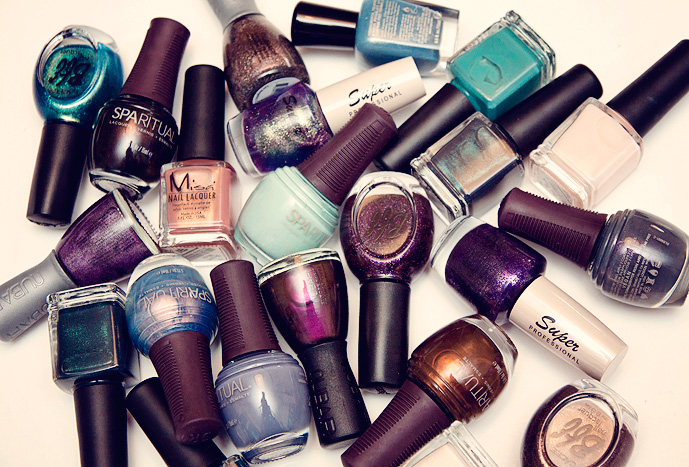 Nail polish porn
Charlotte has a slight obsession with nail polishes - something which is pretty much clear as soon as you click onto her blog. Her blog is a compilation of great NOTDs using gorgeous colours and clever nail art. Charlotte discovers nail polishes from the most obscure brands which I really love and the above link is a sneak peek into her recent haul at the Pro Beauty show. I cannot wait to see some of the NOTDs she creates with these and I have serious nail polish envy over her collection!
Chocoholic Hijabi by Asmaa
Project 10 pan #10
I can always count on Asmaa's blog to bring me variety. Her posts cover everything from fashion to product reviews to one of my favourite topics - FOOD! Her blog is also amazing for girls who wear headscarves/hijabs because she has a great eye for beautiful prints and materials and also posts tips for girls who wear a headscarf (such as her most recent post on how to wear earrings with a hijab). She recently did a series of posts which documented her using up and finishing 10 products and trying not to buy more while she did this. I have definitely been inspired to do my own project pan from Asmaa's blog, so keep an eye out! Click the link above to see the products Asmaa used up during her project 10 pan.
If you don't already follow the blogs which these lovely ladies write - then do it now! Go follow them on Twitter too ;)
Asmaa -
@asmaamangera
Please note: I do not own any of the photographs in this post. They are from the blogs which are mentioned and linked above.
Which blogs do you read and would recommend to me? I always love discovering new blogs so do not hesitate to leave me a comment or contact me on twitter to say hi and pass on your blog link!
Numera x